Whether it's Spring, Summer, Winter or Fall, there's always something that a Beekeeper should be doing or at least thinking about doing for the wellness of their bees. Planning ahead is at the top of that list.
Establish your own system of hive management.
Take notes and record what is happening in each hive at each inspection. There are also print-outs available online if you'd like ready-made inspection sheets to take to the bee yard. Make notes and then keep it in a folder to refer back to whenever you need to. It helps to know and plan for what a hive may need and when to follow through, in order to remedy whatever the situation before it potentially becomes a problem. No matter how good a memory you think you have, you will inevitably forget one thing or another and wish you'd have looked at your notes before the trek all the way back to the bee yard. Tools, duct tape, staple gun, screen wire, matches, etc. Once you gain experience and confidence in your beekeeping endeavor, things become more automatic, but develop an efficient system.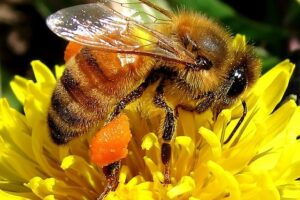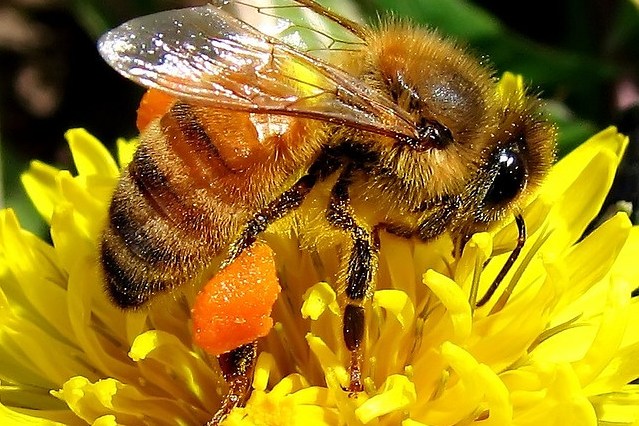 The yellow flower of the Dandelion resembles the sun, the dispersing seeds resemble stars, and the puff ball resembles the moon
One of the most urgent subjects and that we are the most adamant about preaching, is how seriously we are opposed to chemical lawn treatments and insecticide sprays. CHEMICALS KILL! No matter what you have been told; Dandelions are NOT your enemy! Every part of a dandelion is edible or has health benefits if used topically or orally. (A Different Blog)
SPRINGTIME
Just like humans, honey bees are anxious to get out and experience the abundance of Springtime freshness that they crave. A fresh earthy meal. Dandelions, crocus, fruit trees and all kinds of flowering plants are life-sustaining food sources for these tiny insects who like you, have been cooped up all winter long. They need "clean" food!
It's an important time for Beekeepers too, and just like farmers, we keep a close eye on the weather. Once the temperatures warm and our Queens start laying again, we also watch our honeybee livestock. We want to see foragers coming and going, bringing in nectar and pollen. This is a reassuring sign that the girls are ready for feeding thousands of newly hatched or soon-to-be newly hatched baby bees. Spring gets exciting in the beekeeping world. It's a fresh new adventure!
Also like farmers in the midwest, beekeepers live on Faith when it comes to the weather. Some years there's too much rain and all the nectar seems to be washed away. Then the windstorms come and knock the blooms off just as you hope they're bursting with sweet syrup and pollen. Our honey bees depend on this phenology. Some days there's just too many days the sun doesn't shine through those dreadful heavy grey clouds. Your beekeeping patience will be tested.
Ultimately Mother Nature reminds us that she's in complete control and we just need to step back and watch her do her thing. Before we know it, we're making plans to split hives when they look like they may literally burst at the seams.
Heads-up: Every year is different from the last. Every hive, different. And you will continue to learn something new forever, as long as you are a keeper of bees.
Inspecting multiple times during the spring is necessary and what we are looking for is simple; a healthy hive, overall. A producing queen, eggs, larvae, and activity. We will be watching for population increases and deciding if or when we split the hive for increasing the apiary. We want to watch for any pests or disease, mouse intrusion. Essentially, we are generally letting the bees, be. We just help them when they ask us to.
FEEDING:
If needed, early in the Spring and when temperatures are above 40-45 degrees at night, beekeepers may need to feed sugar syrup. A feed of 2:1 ratio, sugar to water will give them a bit of a boost. This is mixed and put into mason jars and inverted with a special slow-drip lid and a feeder apparatus attached onto the front of the hive. If they are still taking it in as flowers begin to bloom, we will cut it back to a 1:1 ratio. Eventually they will not take any of it and we will remove the feeders. Supplemental feeding is only used if starvation is eminent or to give them a boost of nourishment. Your bees will be healthiest if they are gathering what they find naturally.
Pollen patties are also sometimes fed, to help build up their strength. It consists of extra protein, vitamins, and nutrients.
SUMMER:
The heat of the summer months in the mid-west can be pretty brutal. As long as we took care of any potential problems in the spring months, there's not a ton of things we do in the middle of summer. You may need to (or have been fortunate with a good Spring Nectar Flow already have), add honey supers when the flow is on and check them as they fill up. Hopefully adding several supers. Still, keep our eyes, ears, and nose on alert. Your senses can tell you a lot about your hives. Watch for any robbing from other colonies or ferrel bees. If this happens you can easily put entrance reducers on and this will leave less of an opening for the established bees to better protect. Check occasionally for mites or queen rightness, health of the hive etcetera. Also, even though you think there's water somewhere outside, provide the bees with fresh water near the hives. Fill a shallow container with rocks (so they don't drown), and then fill with water so they don't have to rely on the neighbors chemically treated pool, or other potentially harmful means of getting their water. For some reason people don't think that little creatures need hydrating, but they certainly do.
When you plan to inspect in the summertime, bring lots of drinking water for yourself as well, to the apiary. Sweat rags, help too. We have a patio umbrella that we set up over the hives that we plan to work in. This knocks the temperature down a few degrees and provides shade when otherwise there is none.
AUTUMN & WINTER:
A colony needs an ample amount of honey in storage going into colder months, in order for them to make it through until spring when flowers begin to appear. We need to be extra careful by leaving as much honey as we believe they need, even if it means leaving a honey super on top of their hive. The honey that they produce is far more healthy for them than any sugar supplement.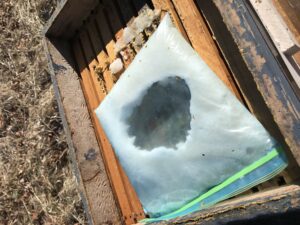 If outside temperatures are below 40-45 degrees at night, sugar patties are made. A sugar patty will consist of organic sugar (or table sugar if organic is not available) mixed with just enough water to hold it together. We will put this mixture into a one gallon size Ziplock bag with two small 1″ X 1″ X 4″ chunks of wood placed inside and on what will become the bottom side of the bag. This will keep the bees from suffocating underneath. When we place the bag on top of the hive frames, we will cut slits into the bag so the bees have access to the sugar patty. I have also added one drop of peppermint essential oil to this mixture when I believe they need a little help stimulating their appetite. I also believe that it helps ward off mites.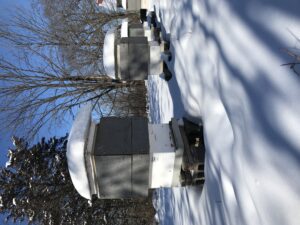 We also wrap our hives. A lot of beekeepers choose to wrap an insulation of some sort around the bodies of their hives to give their bees added protection in harsh winter climates. We have had better success with the wraps than without. I think it helps relieve some of the pressure for the precious energy that it takes for them to generate enough heat inside those hives. Even humans have a rough time acclimating to some of our bitter cold we need to endure in this part of the country.
Other winter activities is simply making sure the snow doesn't build up under your hives, so that air can circulate and keep the humidity levels low inside the hive. We read a lot of beekeeping literature in the winter months and it certainly keeps me inspired,(and anxious for spring). I spend a great deal of time writing as well as planning my gardens and increasing my pollinator habitat areas.
I also drink a lot of home-grown teas in the winter months. I give some of the credit to the bees for helping me to grow such nourishment right here at Friends Hill Apiary. There's something so magical about the connection with the gardening seasons past and our harvest rewards! (A Different Blog)